Gallery Collective

Polarization: The Artist in a Divided World



On the eve of one of the most important US presidential elections in our lifetimes -- where the dichotomy between candidates has never seemed so pronounced -- we asked artists to consider producing works based on the theme of stark polarization, black & white, and their individual reactions and relationships when navigating a divided world.

The five selected artists produced works of high contrast yet limited palettes, primarily black, white and neutral. Most approached the concept as a non-representational abstract where the tones, the forms and markings serve both metaphorically and aesthetically. Materials and unique processes of application are important to most works.
Symbolism is apparent throughout, not only as content but through the techniques utilized even when less obvious. Witness Jay Makins' push-pull painting applied from both sides of the substrates in his Social Gridlock series that produces conflicting matrices emulating political gridlock as neither side of paint is fully aware of what the other is accomplishing. Or the struggle between order and chaos depicted through the raw, awkward mis-registration of dot patterns, this in itself a timely commentary of the problems some citizens encounter when applying their basic right to vote.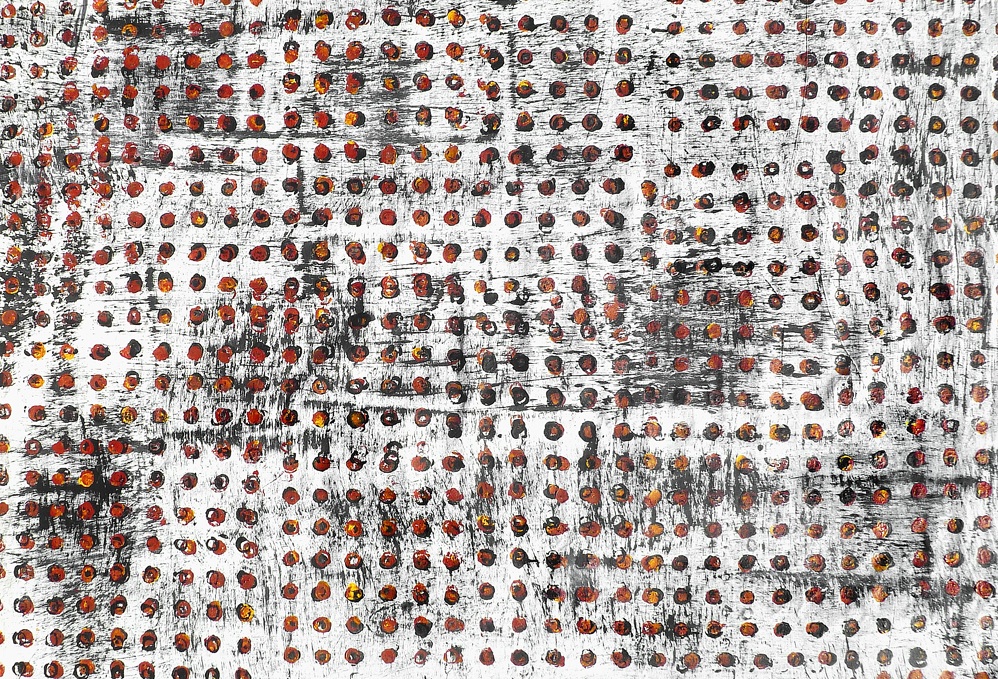 J.Makins,140x100cm, Painting

Nic Branning chose to remain in her wheelhouse using industrial materials, this time with swatches of black fence mesh as analogy of everything that divides and restricts. Isabel Etchavarria utilizes discarded umbrella fabric to express vanishing safety nets as governments and societies struggle to shelter citizens from anything ominous, once thought to be the inalienable rights of the loyal. Equally poignant is her "After Lilith" homage to artist Anselm Kiefer, whose Lilith series stands along with Picasso's Guernica as two of the most electrifying sociopolitical statements of the past century.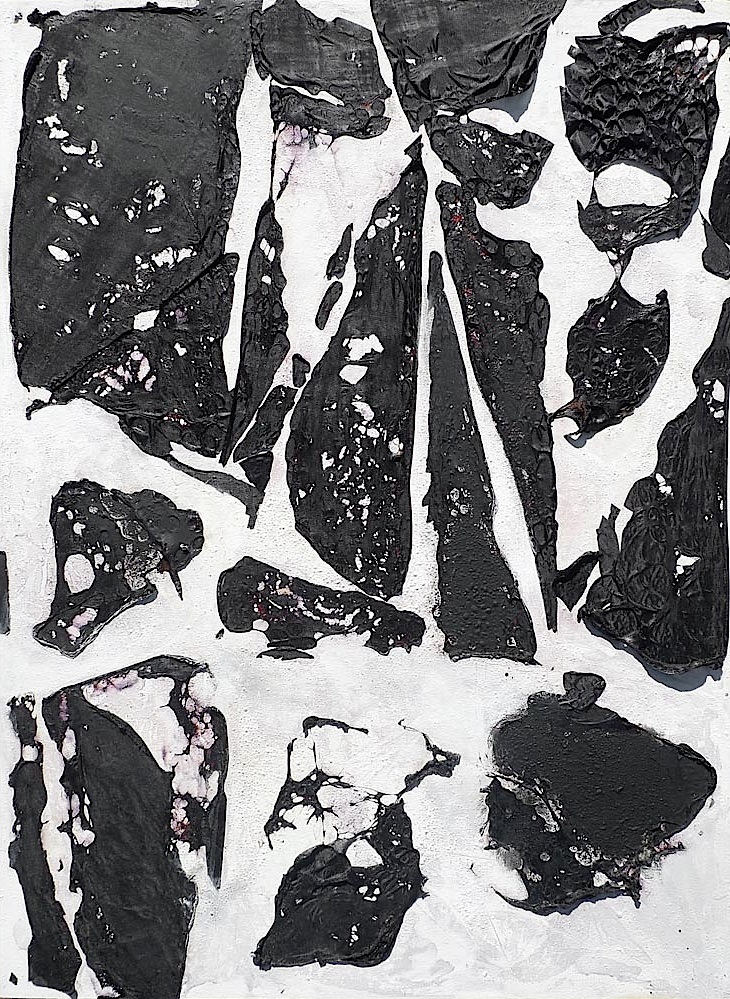 Sebastian veers from the black-white narrative to touch upon the cycles of deconstruction and reconstruction to which all societies are exposed as they try to stabilize communities that serve all citizens. He uses expanses of hardened layers of recycled paint over top of unprimed burlap substrates as this repurposing commences, albeit with the pronounced separation never abating. The jagged but essentially flat progress lines between the extreme materials hints at stagnation, a divided world evolving but rarely improving. Aesthetic appeal is garnered through the paint layers which seem to hover over the substrate.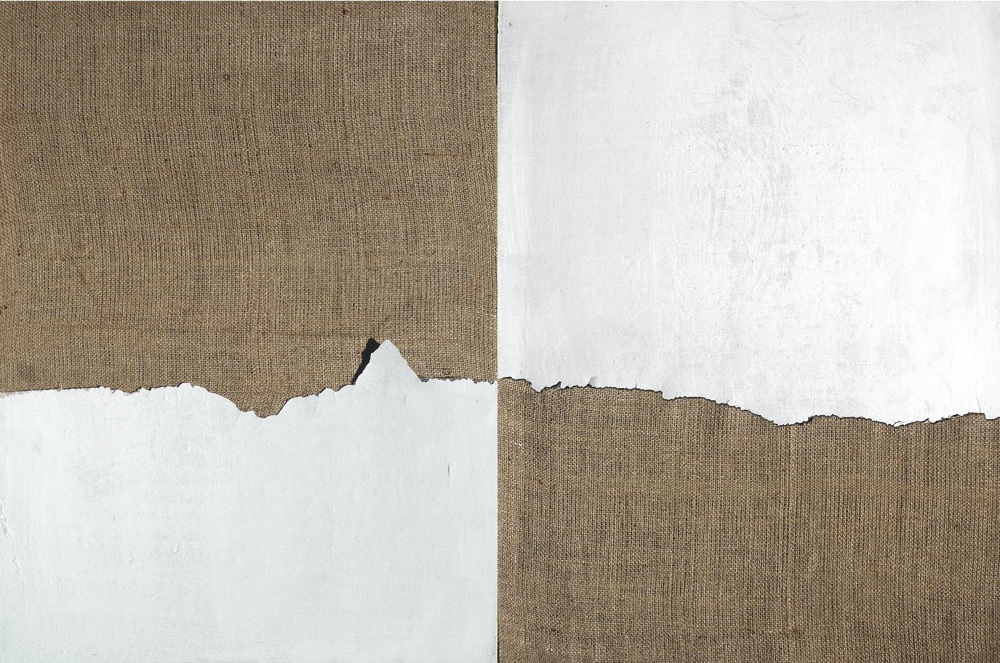 Sebastian,, 112x75cm total, Mixed Media

JP Paul takes a different approach to illustrate how he or other persons may approach a divided world. In this series within a series he draws the line between past, present and future rather than polarized groups. Do black and white represent external forces or internal struggle? Can the past be forgotten or remembered if one or the other is the intended goal? Are we resigned to defeat or can we overcome? Paul constructs works on canvas that emulate personal journal pages that have been pasted, removed, scraped away, replaced and recovered as the journey continues through life. In essence, people and societies must choose what to discharge and what to carry forward.

Of special note is the monochromatic approach rather than the high contrast utilized by most of the artists, a muted sameness in off white that implies the solution may well be within all of us, that we might as well fight this together since we're 99% the same regardless of perceived or fabricated differences. The outcome is not inevitable. The layers seem endless. Today's issues are nothing new as history repeats itself from generation to generation, both personally and as a society. The title of the recent series to which these 5 works are drawn is "Anonymous Memories: Nothing that a Lick of Paint Can't Obliterate." What may first appear as somber defeatism is at its heart a defiant set of work that sends a positive response, as does "Now You Just Want to Scrape Away the Bad Bits" which remains purposely ambivalent in its message.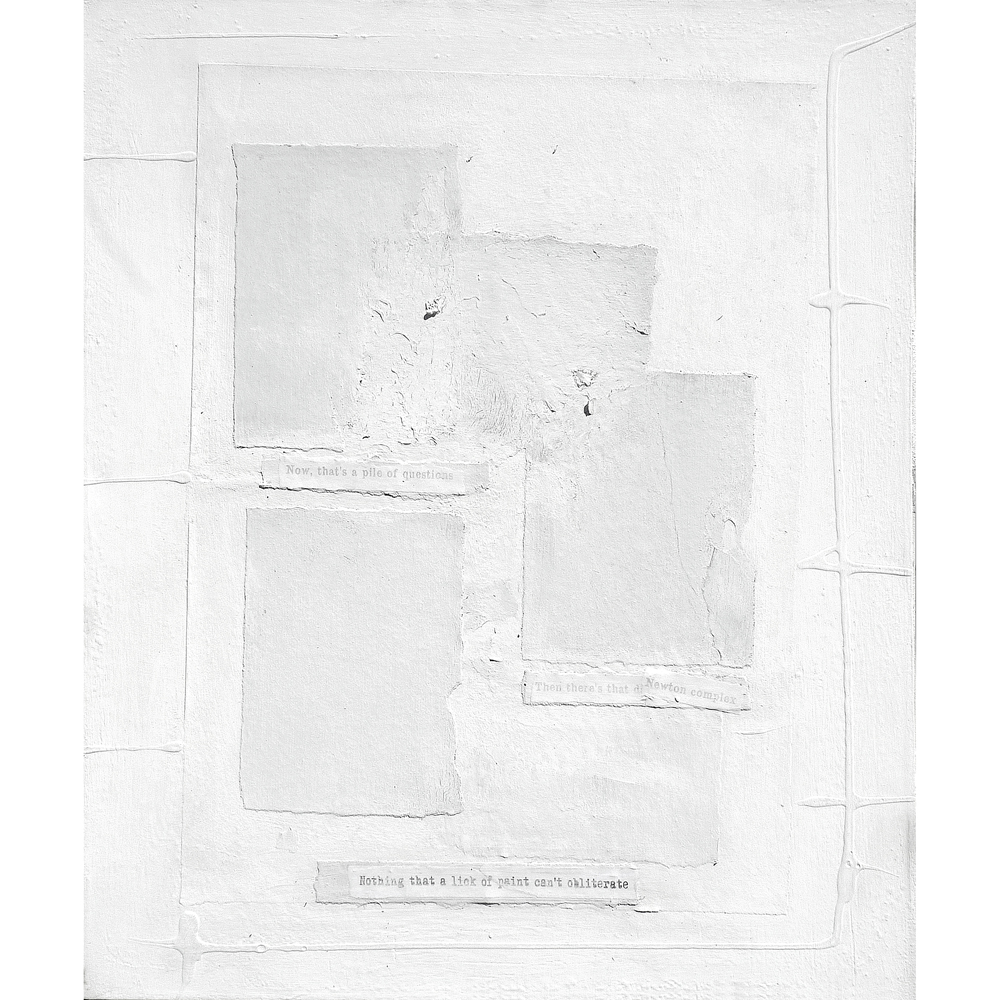 "Nothing that a Lick of Paint Can't Obliterate"
JP Paul, Mixed Media, 55x63cm

"Polarization: The Artist in a Divided World" is a difficult yet handsome show with grit and bite, both physical and intellectual. For more information about available works, please contact us.

All artworks can be shipped worldwide and are affordably priced in $US dollars between $1,250 and $3,000. Insured Standard Shipping is only $50 to $150 depending upon destination. We include free shipping for any order over $1,500. Please contact us if you would like to make an offer on a multiple piece order.